The Definitive Buyers Guide for AR-15 Zombie Prep Accessories for 2015

Now is the time to starting shopping and comparing accessories for the 2015 Shooting Season. Zombie Prep Supplies is proud to present the AR-15 Rifle Ultimate Buyers Guide for all things AR-15. Whether you just got your rifle , or are looking to take your AR-15 up a notch or two, this list will be a great source of ideas/ inspirations and show you a little bit of what is available.
1. Best Overall AR-15 Rifle Scope - EoTech XPS3-4 With Flip to Side Magnifier
This scope gives you the best of both worlds. Extremely quick target acquisition in Close Quarters Zombie Combat as well as the ability to quickly flip over the magnifier and acquire targets out to 600 meters in a flash. You really do not want to waste your valuable ammo on any zombie over 600 meters away anyways.
---
2. Best Overall AR-15 Fore Grip: The Crimson Trace Modular Vertical ForeGrip with Laser and Light
This awesome Fore grip contains everything you could ask for in a VFG. Flashlight- Check! Laser - Check! High Quality from a trusted brand- Check! Crimson Trace Forgrip is the Ultimate in quality foregrips! See Full Review
---
3. Best Fixed Magnification AR-15 Scope- The Trijicon ACOG 4x32 223 Bullet Drop Reticle with RMR Red Dot
This 4X fixed magnification rifle scope is absolutely top notch! As seen on the rifles of every special forces and commando unit around the world. This scope is battle tested and Zombie Battle Ready. No batteries required, on sale now save over $500  off MSRP!
---
4.Best Scoped AR-15 Accessory: 45 Degree Back Up Iron Sights BUIS
These are the perfect complement to any AR style rifle with fixed magnification scope attached. Now you don't need to sacrifice your battle rifles' close quarters capability when you attach a long range scope. Now that you have seen these - you know you need them! Super value priced and a cool accessory to show your friend and the range.
---
5. Best Overall Value Accessory- Tippman X7 Fore Grip with Built in Push Button Bipod
The very cool AR-15 Accessory is more than just a gimmick. This combination Grip and Bipod features Solid construction, way past its price range and a built in picatinny side rail. Push a button to pop out a bipod when you need it!
---
6. Best new AR-15 Scope- Leopold D-EVO 6x "Periscope" Scope
 This super innovative Zombie Scope is a fixed 6X. What makes it unique is it fits in behind your existing non magnified red dot. You can co-witness both reticles!
---
7. Best AR-15 Cleaning Accessory - Hoppes Bore Snake
Between the waves of zombies, you can quickly run this down your bore to keep your barrel nice and fresh! Makes a quick cleaning much easier at all times.
---
8. Fastest Way to Load An AR-15 Magazine
Whether you are reloading in between hordes of zombies, or just loading up for a day at the range, Butler Creek LULA is the way to go. This makes your life a ton easier, and saves your thumbs.
---
9.Best Angled Foregrip: Magpul AFG2TM
If you prefer and angled fore grip, this is the premier AFG available. Bolt on increased control and accuracy with a very reasonable investment.
---
10.Best Magwell Grip: Mako Magazine Well Grip and Mag Funnel
This simple upgrade not only gives you increased control when using the magazine for a grip, but also speeds up tactical reloads. The magwell funnel guides the magazine into place very quickly with minimal practice.
---
11. Top Rated AR-15 Sling: Magpul MS3 in Black
Unique design  allows the operator to leverage the maneuverability of one-point attachment for direct action or two-point attachment for stability.  Quickness is key when facing the undead.
---
12. Top Rated AR-15 Tool - Tapco Multifunction AR Tool
You need this handy tool if you own an AR-15! If you want to install a single point sling plate , this is the tool to do it correctly. Its a Castle Nut Wrench, Standard Length Receiver Extension Removal Wrench, A1/A2 Flash Suppressor Wrench
---
13.Top Rated Sling Plate: Magpul ASAP for MS2 MS3 and other Slings
Top quality and innovative design make this the perfect match with a MS3 sling. A rifle without a sling is like a handgun with no holster. Not good for mobility in zombie situations.
---
14. Top rated Magazine Accessory: Magul Range AR-15 Floorplates with Grip Loops
Increase you reload speed with things one minor modification. Perfected from the old Special Forces trick of duct tape and paracord on their magazines. Also makes it easier grabbing a magazine from your pouch.
---
15. Top Rated AR-15 Scope Under $250 - Lucid HD7 Gen III
This scope continues to get rave reviews from the press as well as real world users. Check out the reviews to see what this scope is all about.
---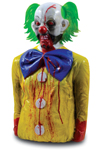 16. Ultimate Zombie Gun Targets - Life Size 3D Bleeding Zombie Targets
Take your Zombie Preparations to the next level with these revolutionary, cool and awesomely fun gun targets! Great for live ammo or airsoft training!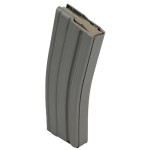 17. Top Value Magazines: Cheap PMags With Window In Stock 30 Round Ar-15 Magazines
You can never have too many of these when facing zombies. Nobody ever said" I wish I had less loaded magazines" in a zombie battle. Window for easy round count during battle.
19.TOP AR-15 Dress UP Accessory- Zombie Hunter Ejection port Cover
Show your true colors!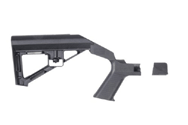 20. The Ultimate AR-15 Stock: SLIDE-FIRE AR-15 Super Bump Fire Rifle Stock
Sometime you just need to put some lead downrange. You know it, I know it. This stock is the fastest way to safely and legally convert your standard AR-15 to a Zombie MowDown AR! Check out the video!

21. Best Zombie AR-15 Scope: EoTech XPS Zombie Hunter Reticle
No zombie list would be complete with  out the ultimate zombie themed  scope!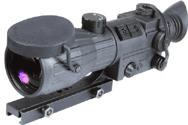 22. Best Budget Night Vision Rifle Scope: AR-15 Orion 4X Gen 1 Plus
Awesome gen 1+ 4X Magnification Rifle Scope for your AR-15. Give yourself the upper hand in any nighttime defense situation with this small investment in your safety!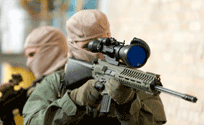 23.Best Mid-Range Gen 2+ Night Vision Scope: Aramsight Nemesis 6X AR-15 Scope
Take the next step with Special Forces Quality optics. True Generation 2+ rifle sight is the best scope in the Generation 2 range for clarity, quality and durability.
24. Ultimate High End Night Vision Rifle Scope: ATN 4.5X Thermal Scope
You want the best rifle scope money can buy? Look no further than the ATN 4.5 X Rifle Scope. Teamed up with back up iron sights (45 Degree) this is the ultimate accessory for AR-15 night work.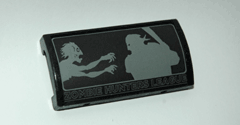 25. Best Zombie AR-15 Accessory: Custom Rail Cover, Zombie Hunters League
Let the zombies know what team your are on! Very cool custom engraved Zombie Hunters League Rail cover is an accessory sure to give your friends AR envy! Grab one or 2 and and protect those rails!